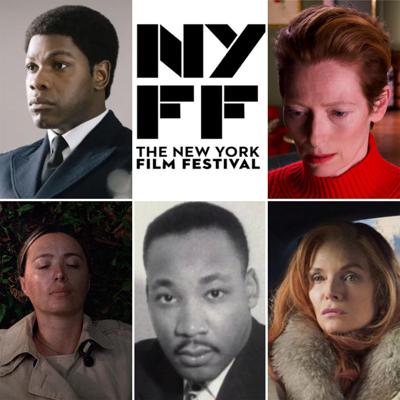 Thanks to COVID-19 — it feels weird saying that, but whatever — I was able to experience the New York Film Festival for the first time. Now, admittedly, there is a qualifier to that statement: I was able to virtually experience the New York Film Festival.
I watched a total of twenty films, twenty-one if I count a re-watch of Nomadland, which I watched at the Toronto International Film Festival a few weeks earlier. It was an almost uniformly stellar group. In fact, I was positive about all but one, the last film I watched. You'll see it at the bottom of the list …
Lovers Rock/Mangrove/Red, White and Blue: A
The three full-length segments in Steve McQueen's Small Axe anthology that played NYFF were equally extraordinary. Each felt like its own self-contained piece, and yet all three shared traits and feelings. Lover's Rock, the story of an all-night house party, is the most joyous of the three. Mangrove and Red, White and Blue, on the other hand, were often harrowing, and always bursting with tension. Each featured noteworthy performance, especially John Boyega in Red, White and Blue. Each was emotionally affecting. Each was, dare I say it, a masterpiece. McQueen, the director of Shame and 12 Years a Slave, has reached new heights. And the fact that there are still two more segments to enjoy when Small Axe begins streaming on Amazon Prime is genuinely exciting.
The Human Voice: A-
Pedro Almodovar's short film starring Tilda Swinton and an adorable dog was shot during the pandemic. In fact, one might argue this is one of the great works of art made during COVID. Swinton unforgettably plays a woman whose life is in a tailspin following the end of a relationship. The only real criticism of this adaptation of Jean Cocteau's play is that it is just thirty minutes long.
The Disciple: B+
Chaitanya Tamhane's film about a Indian musician dealing with the expectations and disillusionment earned raves at both TIFF and NYFF. It was warranted. This is one of the most astute films about artistic failure in recent memory.
MLK/FBI: B+
This hard-hitting documentary from Sam Pollard explores the FBI's unceasing surveillance of Martin Luther King, Jr. It's a moving and upsetting film, especially the elements touching in King's assassination.
The Plastic House: B+
From my review for The Film Stage: "The Plastic House is a largely quiet film, one drenched in emotion but never outwardly melodramatic. Often dialogue-free, plotless, and running just 46 minutes, Plastic is a uniquely involving sensory experience."
Days: B+
The latest from Tsai Ming-liang is a demanding, even rigorous viewing experience. Yet it is also a tremendously moving romance about two lost men. There is no one making films quite like the director of Goodbye, Dragon Inn. But those who are able to put in the time and deal with the pacing are hugely rewarded.
Swimming Out Till the Sea Turns Blue: B+
No film at NYFF was more visually sumptuous than Chinese director Jia Zhang-Ke's documentary. A uniquely structured piece centered around past and present life in Shanxi province, Swimming is a powerful, fascinating creation that rivals the director's fiction work.
Beginning: B+
No film I saw at NYFF led me to wrestle with my feelings quite like Beginning, Dea Kulumbegashvili's story of a Jehova's Witness wife and mother. There are scenes here of such sudden violence — and, also, simmering, slow-building tension — that I had to watch the film twice. I'm still not entirely certain how I feel. What I know, though, is that Beginning is stunningly powerful and extremely upsetting. Ultimately, I found myself returning to certain images and scenes, and even weeks later, I cannot stop pondering this one.
City Hall: B
Either you embrace the films of Frederick Wiseman or you do not. Yes, they are long (City Hall is four hours long), and delve into the types of minutiae many of us never experience otherwise. But City Hall, a look at Boston city politics from the inside, is a rewarding experience. Not an easy one, but certainly worth it.
The Woman Who Ran: B
As usual, the latest from Hong Sansoo is an involving, often very funny character study. And while this story of a woman visiting a series of friends is ideal for in-home viewing, its final moments make the viewer long for a return to the theatrical moviegoing experience.
Tragic Jungle: B
Perhaps "rollicking" is not the right word, but Jungle certainly has that feel. It is set in a Mayan rainforest in the 1920s and, despite some missteps, nearly pulls off a mix of adventure and mystery. This is the fifth film from Mexican director Yulene Olaizola, and I look forward to seeing what she does next.
Notturno: B
Gianfranco Rosi's anti-war documentary is somber and unsettling. The narrative jumps from person to person lessens the impact, but this is certainly an important film — at times, even a haunting one.
Isabella: B
This loose adaptation of Shakespeare's Measure by Measure is smart, fanciful, and beautifully made.
The Monopoly of Violence: B
From my review for The Film Stage: "A note just before the end credits salutes the brave individuals who managed to shoot video during these moments of chaos. It is this footage that makes The Monopoly of Violence a work of tangible, visceral power."
I Carry You With Me: B-
It is understandable why Heidi Ewing's docudrama is drawing raves; this is a beautiful, epic romance about two men who fall in love in Mexico and make the difficult decision to travel to the U.S. Yet for me, the second half, featuring the real characters on which the film is based, felt forced.
The Truffle Hunters: B-
This French documentary is perfectly pleasant, yet unremarkable. It is far too oh-these-wacky-folks (and their faithful dogs) and not enough exploration of why truffle-hunting is a pastime. Still, it is entertaining, to be sure.
The Salt of Tears: B-
Philippe Garrel's latest black-and-white tale of doomed love is nothing special, yet feels a bit more fresh than some of his recent efforts.
French Exit: C
This story of privileged (but downward-spiraling) Manhattanites was, for me, a disappointment. It is an oddity, to be sure, and some will find its tart-tongued script appealing. I found it overly sour and never particularly involving, despite the best efforts of a game cast. Michelle Pfeiffer gives her finest performance in years as widowed heiress Frances Price; I hope she's remembered come Oscar time for her marvelous work.